Details
Time
: 9pm doors open
Venue
: The Moustache Club
Address
: 15 Simcoe st
Contact Website
:
http://moustacheclub.ca/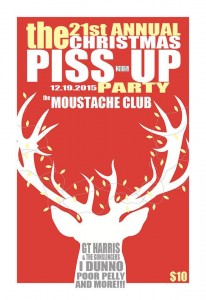 This December not only brings snow, presents n Santy Claus but most importantly the 21st Annual Christmas Piss Up. Marking 21 frick'in years of pure holiday debauchery for all!!!
The night will be a chance for holiday reunions, festive chivalry and seasonal salutations beyond Santa's wildest Saturnalian dreams.
December 19th will feature GT Harris and the Gunslingers serving up kick ass, honky tonkin-outlaw country numbers from our recent CD release, which will be available at the club. Last minute Christmas/holiday shopping couldn't get any better than this.
Come by and raise a cheer to the best party the holidays has to offer and remember your crazy lame relatives will not be there except for the cool uncle and aunt who you always knew smoked the gingy. That's right they'll there because they're KEWL.
So whether it's Christmas, Hanukkah, Kwanzaa or Festivus. Lets all cheers our beers (er wutever, glog, wine..whatevs) to the best reason for the season…TO PARTY WITH SOME KICK ASS PEOPLE!!!.